Mr. Stevenson speaking at the Ohio State House of Representatives on the effects of Dyslexia on youth growing up and becoming gang me
mbers or embracing a life of crime.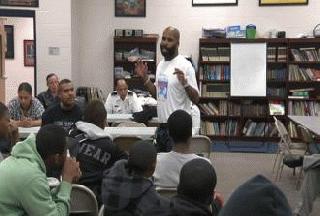 Fighting Back: Former Gang Member Scares Kids Straight
COLUMBUS-- A former Columbus gang member who did nearly 20-year behind bars is fighting back, speaking to teens in one of the roughest neighborhoods. Sean Stevenson served 17 years behind bars for selling drugs. Wednesday he returned to Columbus to talk to a roomful of a teenagers from the Hilltop neighborhood.

"My main mission is to get them on the right track. To let them know the decisions they make now, may cost them the rest of their life."

Briggs High School Sophomore, Derrick Peoples attended the meeting. "It makes me want to stay out of trouble and stay active in sports," he said. Stevenson said he never had a mentor growing up and is hoping by speaking out, these teens wont make some of the same mistakes he made.

------------------

Reporter: Chelby Kosto
Web Producer: Julia Ashby
Posted: Thursday, November 3 2011, 08:38 AM EDT
SPEAKING, LECTURING & TEACHING...CONTACT MR. STEVENSON OR MS. ROSSLYN MOON, PUBLICIST FOR DETAILED INFORMATION ON ACQUIRING MR. STEVENSON'S SERVICES FOR YOUR NEXT EVENT.